General Information for Visa Application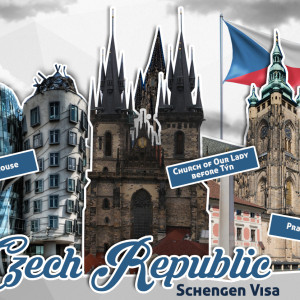 You can apply for the Czech Republic Schengen Visa since 2007 when the Czech Republic as an EU Member State also became a member state of the Schengen Area.
Firstly, download the application form, fill it completely and with sincerity. You can also fill the Czech Republic Schengen Visa application form electronically and then print a hard-copy.

2 photos must be attached; the photo should be of passport format – a recent whole-face capture with a light background. Learn more about visa photo requirements and specifications.

Your passport and copies of your previous visas – valid for at least 3 months beyond return date – are required. Your passport must have at least two blank pages.

A copy of your return-ticket reservation. It is not recommended to purchase the ticket before obtaining the visa – if not otherwise required

Travel medical insurance confirmation of minimum 30,000 € coverage within Czech Republic and the entire Schengen area

A cover letter stating the purpose of visit to Czech Republic and itinerary

Flight itinerary reservation with dates and flight numbers specifying entry and exit from the Czech Republic

Proof of accommodation for the whole duration of the intended stay in the Czech Republic

Proof of civil status (marriage certificate, birth certificate of children, death certificate of spouse, ration card if applicable)

Proof of sufficient financial means for the period of stay in Czech Republic.
* For more information, please contact the local Czech Republic Embassy in your country.
Please note ICEBI is not authorized to assist with the VISA process beyond providing the Notification of Acceptance Letter and Invitation Letter (after registration) issued by the ICEBI Committee Board. Should your application be denied, ICEBI cannot change the decision of the Ministry of Foreign Affairs, nor will icefr engage in discussion or correspondence with the MOFA or the Embassy on behalf of the applicant. The registration fee cannot be refunded when the VISA application of individual being denied.